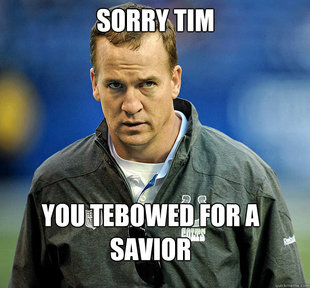 So, my Broncos won the Peyton Manning sweepstakes. Yaay!
But what does that mean?
Denver has been in a state of flux at quarterback for over a decade now. Most recently, Tim Tebow was exciting, and he was probably responsible for winning three or four games last season the Broncos would otherwise have lost. It's also probable that he was responsible for losing two or three games the team would have won with Kyle Orton under center.
Predicting what Peyton's presence will do for the Broncos this year is a bit complicated — for one, while most observers seem to think he's back to his pre-injury form, we won't know for sure until Manning gets hit for the first time. Secondly, Denver has made some other moves in the offseason, the impact of which is yet to be determined.
Instead, I thought it would be fun to speculate what (pre-injury) Peyton's presence might have done for the Broncos in 2011.
First, a quick recap of the team's quarterback journey:
1999: John Elway retires. There is much wailing and gnashing of teeth all along the front range. Brian Griese is designated as the heir apparent.
2003: Griese is released for the twin transgressions of (1) failing to prevent Terrell Davis' ACL injury four years earlier, and (2) not being John Elway. Jake Plummer is brought in to save the team.
2006: Plummer is benched after 11 games in favor of Jay Cutler. Plummer's benching, which would lead directly to his retirement in 2007, was the result of his heinous crimes of (1) failing to be single-handedly better than the entire Pittsburgh Steelers team in the 2005 AFC Championship, and (2) not being John Elway.
2009: Cutler is abruptly traded to the Chicago Bears in a straight-up swap for Kyle Orton. This trade was instigated by ex-Patriot offensive coordinator Josh McDaniels, who blames Cutler for not being Tom Brady. The rest of the city goes along with the move, because they can't forgive Cutler for not being John Elway.
2011: To the surprise of exactly no one, Orton turns out not to be John Elway, either. In despair, the team turns to Tim Tebow, whom many suspect of being Jesus, which is almost as good as being Elway, so why not?
2012: The team signs Peyton Manning, shipping Tebow off to New York without so much as a fruit basket for his efforts. As of press time, some (heretics) are wondering if maybe, just maybe, Manning might be better than Elway was.
And here we are. In some ways, the situation in Denver is not unlike the one in 2003, where a highly-regarded college player is given a shot, only to fall short of expectations, and an established quarterback is brought in from elsewhere to push the team over the top. Of course, Tebow was not Griese, and Plummer was certainly not Manning, but the parallels are interesting.
Okay, enough background. Let's get to the breakdown of last season. Below is a list of all the regular-season game results, and my predictions (postdictions?) of what would have happened with Manning instead of Orton/Tebow: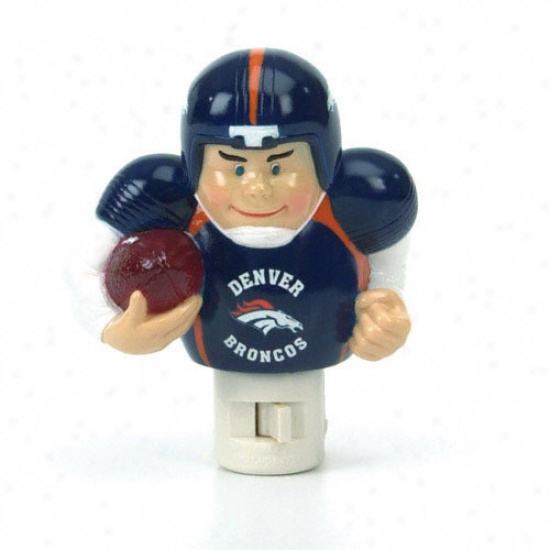 Week 1 vs. Raiders (L, 20-23): Manning is certainly worth more than 3 points against the third-worst scoring defense in the league. BRONCOS WIN (1-0)
Week 2 vs. Bengals (W, 24-22): There's no reason to think Manning's presence would have done anything but increase the margin of victory. BRONCOS WIN (2-0)
Week 3 at Titans (L, 14-17): Again, a 3-point loss to a middle-of-the-pack team, although this time the defense was ranked 9th in the league. Still, you have to think Manning is worth more than a field goal. BRONCOS WIN (3-0)
Week 4 at Packers (L, 23-49): An ugly, ugly game which set the stage for the eventual switch to Tebow. Manning would have made the game much closer, but the Pack at home are a tough nut to crack. BRONCOS LOSE (3-1)
Week 5 vs. Chargers (L, 24-29): This is one I'm looking forward to in Real Life™; Manning vs. Rivers. Phil isn't what he used to be, but neither is Manning, and I think the two games they play in 2012 are going to be closely fought and entertaining. In this case, I think Peyton would have turned defeat into victory. BRONCOS WIN (4-1)
Week 6 (BYE)
Week 7 at Dolphins (W, 18-15): Tebow's first start, and his first "miracle". A Manning-led team wouldn't have been down 15-0 in the first place. BRONCOS WIN (5-1)
Week 8 vs. Lions (L, 10-45): A soul-crushing game, one to which people should have paid more attention as the Tebow Train rolled on over the next six weeks. The 2011 Detroit Lions were no juggernaut, but they were clearly better that day. Manning would have made the final score more respectable, and maybe even had a chance to win, but it's reasonable to assume the outcome would not have changed. BRONCOS LOSE (5-2)
Week 9 at Raiders (W, 38-24): If Tebow can throw up 38 points on the Raiders' defense, what could Manning have done? BRONCOS WIN (6-2)
Week 10 at Chiefs (W, 17-10): Manning turns a close game into a laugher. BRONCOS WIN (7-2)
Week 11 vs. Jets (W, 17-13): The one benefit Tebow had over his first several games was just how unique his style of play was in the NFL. Given enough time, defensive coordinators can usually come up with a solution for most anything — and they most certainly did for Tebow. However, the Jets game (specifically, the last drive) was one in which it was clear the opponent was expecting something completely different than what they got. Had they been able to prepare for a more traditional passer, they might have had enough to win. At home, I'd have given them the benefit of the doubt. BRONCOS WIN (8-2)
Week 12 at Chargers (W, 16-13): Another game in which I think Tebow's presence helped more than it hurt. In San Diego, the Broncos always seem to struggle. With Manning under center, it's entirely possible the Chargers would have come out on top. BRONCOS LOSE (8-3)
Week 13 at Vikings (W, 35-32): This was the game in which Tebow's fate was sealed. Although it was easily his best passing performance of the year (149.3 rating) and he came out with the victory, he passed nearly four times as often as he ran (15 to 4). The team yardage was more balanced (150 rushing to 202 passing), but the implications were clear: the Broncos knew full well it was only a matter of time before Tebow had to prove himself as a traditional passer. He did well against the Vikings, but the Patriots were looming two weeks down the road… In any event, with Manning, this is still a win. BRONCOS WIN (9-3)
Week 14 vs. Bears (W, 13-10): Tebow extends his streak to six wins, but only with a lot of luck, and some help from Marion Barber. Nevertheless, scoring only 10 points, the Bears are no match for Manning. BRONCOS WIN (10-3)
Week 15 vs. Patriots (L, 23-41): Tebowmania meets Belichick. Belichick wins. Manning has struggled against the Patriots, but I look to the 2009 AFC Championship, and Belichick's history at Mile High, for guidance on this one. BRONCOS WIN (11-3)
Week 16 at Bills (L, 14-40): The Tebow "magic" is well and truly dead at this point. While the Bills soundly crushed the Broncos in reality, a lot of it may have been a hangover from the previous week. Nevertheless, there's reason to think that, on the road, the Broncos would have had a similar let-down after Manning led them to what would have been a huge win against New England. BRONCOS LOSE (11-4)
Week 17 vs. Chiefs (L, 3-7): Seriously? BRONCOS WIN (12-4)
The Broncos finish four games better than in reality, but their position in the division remains the same, winning the AFC West. What about the other playoff teams?
The Patriots, due to their loss to the Broncos in week 15, drop to 12-4, tied with the Broncos and Ravens. The Texans are still 10-6, having not played the Broncos. The Steelers are also 12-4, but finish second to the Ravens, while the Bengals remain at 9-7, since they lost to the Broncos both in reality and under Manning.
Had Baltimore not been 12-4, the Broncos would have gotten the top seed due to their head-to-head victory over New England. Because of the three-way tie, however, conference records are used for playoff seeding. Luckily, this also gives the Broncos the top spot (10-2 vs. 9-3 for New England and Baltimore). Playoff seeds are as follows:
Broncos
Ravens[1]
Patriots[1]
Texans
Steelers
Bengals
So, the Broncos and Ravens get a bye week, while the Patriots host the Bengals and the Texans host the Steelers.
AFC WILDCARD 1: I think it's obvious. PATRIOTS WIN
AFC WILDCARD 2: Houston did beat the Steelers in week 4. TEXANS WIN
The divisional playoffs feature the Broncos hosting the Texans and the Ravens hosting the Patriots.
DIVISIONAL 1: Manning is too much for a team coming off its first ever playoff victory. BRONCOS WIN
DIVISIONAL 2: In reality, the Patriots only managed a 3-point win at home. RAVENS WIN
AFC CHAMPIONSHIP: Ravens at Broncos. Although Manning is thankful the Ravens eliminated a constant thorn from his side, they are not exactly a pushover. Nevertheless, Baltimore's strength is its defense, and they never did contain Manning (7-2 record vs. the Ravens). BRONCOS WIN
And, at this point, the NFL giggles like a schoolgirl at the thought of a Manning-vs-Manning Super Bowl…
Okay, clearly, this is hypothetical. Just as clearly, I'm biased. Nevertheless, while others might get different answers, I don't think my results are unreasonable. I think we can safely say that a fully-recovered (or even mostly recovered) Manning, if he stays healthy, means the difference between yet another slog through the AFC West followed by (if we're lucky) a summary bounce from the early rounds of the playoffs, and being a serious contender for another Super Bowl ring.
Bring it on!
---
[1] Based on strength of victory (.484 to .423), since both teams were 3-1 in games against common opponents.